We have had many people get on the Patterdale BREEDING bandwagon in the last few years, AFTER they became so popular ..I could cover several pages with request from people that want to be listed on my links page.Sorry but I do not list these. IF you can PROVE you hunt to GROUND I might add your link.Otherwise PLEASE dont ask.I get lots of pictures of DEAD ANIMALS and dogs...they MAY be road kill for all I know....send me some with the dog in the ground and I'll think about it.

Bo and whodee below July 2017 Photo BY KAREN SMITH
The coolest cleanest water comes from the head of the stream. Our lines are not watered down. Think about that when looking for working terriers.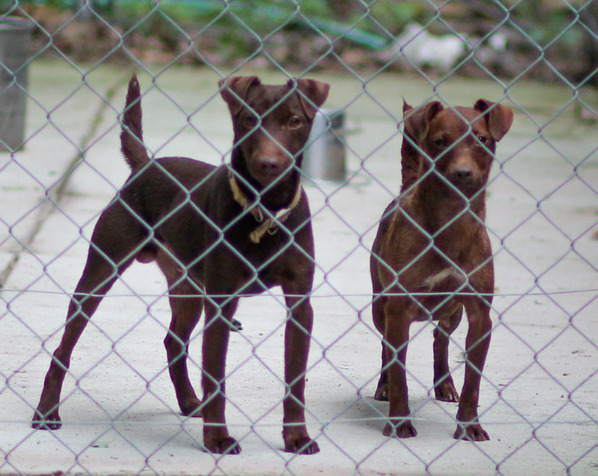 THE PICTURE ABOVE IS OF Masons Bocephus and Masons Whodee.....Both from several generations of my dogs....Bo runs back to my old Nuttalls Tarmac.

An example of the QUALITY we are consistantly producing after around thirty years

of serious PATTERDALE/ FELL breeding. You may find better dogs in the U.S. but NONE that have been

bred from one SOLID line as long as mine.

EVER NOTICE HOW MANY FOLKS ARE ALWAYS GETTING THAT NEW "GREATEST ONE THEY EVER HAD?"

I believe in order to be successful in anything you have to stay with it til you know its good qualitys as well as the bad. When you find a family of dogs that produce what you want time after time, DONT change horses....KEEP ridin the one that brought you to where you are.

Another BIG thing I can see happening with terriers here in the States is people BREEDING them TOO BIG for what they are supposed to be used for.Dogs with lots of Staff & Bulldog breeding are NOT bred for our kind of work...DONT have the desire to go to ground and IF they did theyd be too BIG...WATCH what you buy for size IF you are really serious about go-to-ground terriers.If you arent wanting a working terrier why not just buy a Staff or Pitt?

WHEN YOU ARE THINKING ABOUT BUYING A GROUND WORKING TERRIER BE SURE TO ASK HOW CLOSE ARE THE STAFFS( or PITTS) IN THE PEDIGREE IF YOU WANT SMALL DOGS TO WORK TO GROUND..REMEMBER SMALL DOGS GO PLACES BIG DOGS CANT GO I was asked to add the names below to my website.. I make no claims as to what they have or breed..as far as I know they are respectful people...(?)
DEADGAME PATTERDALES
HURRICANE KENNELS
WWW.PRAYNDIGN PATTERDALES.com

Hunters not breeders...will speak the truth...raises a few pups for their own use..sometimes has a pup to sell.Good bred WORKING dogs of the right sort. DAILEYS WORKING TERRIERS 419-203-7132


ROADYS WEBSIGHT


J&J PATTERDALES

WWW.TERRIERMAN.COM The best American WORKING Terrier information on the net...Be sure to get one of his books




T.B.C' Patterdale Terriers, Berlin & Bamberg Germany

http://californiacatchers.com/index.asp?ID=3

Seems like these people do actually Hunt



WWW.PTCA.00go.com Patterdale Terrier Club of America





ANYONE WHO THINKS THEY WOULD BE BETTER OFF LETTING THE FEDERAL GOVERMENT TAKE CARE OF THEM SHOULD ASK AN AMERICAN INDIAN.

Quote from HENRY FORD